Without good sponsorship and hand-in-hand partnering, a successful, well-operated equestrian business would be unimaginable. We would like to thank all sponsors, partners and all helpers and supporters who supported our still young company in different ways and would like to ask you again, please continue supporing us.
Since further support for our top-class equine sport is absolutely neccessary, we would be very happy if you too would become a sponsor or partner of our company. Please, write us a mail or simply call us.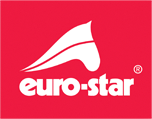 We are very proud to work with this premium manufacturer of equestrian fashion.
Euro-Star not only stands for top quality, but is
also
top in trend
with its products
in private sector.

Haertsfelder family brewery Hald
Being supported as a sportsman by a beverage producer is a real privilege. Especially when this company still stands for values such as family, environment and connection to nature.
The Haertsfelder family brewery Hald does not only brew beers of highest quality, they also offer soft drinks and juices under the brand named "Haldina". The range is large-scaled and a absolut highlight of taste.

Eventing24
This platform combines many competencies. Here high-quality brand manufacturers and companies are linked with riders.

The extensive online shop completes the offer with its informative Newspage. Thanks for networking.

Here you get everything you need around the horse: stable supplies, horse equipment, riding clothes, fencing and and and ...

Ralf Renner is a real professional in all matters relating to saddles. Thank you for the many years of support!


Gestuet Deschenhof
Here Falk and Kim grew up. They have learned to ride on this fantastic equestrian facility.
Their parents still continue to support them, all possibilities of the parents' equestrian center are still available to them.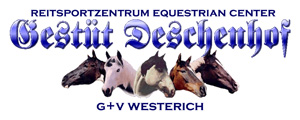 All Others
Many thanks to all other unmentioned sponsors and supporters.
We would also like to thank the following sponsors
:
ARIAT
,
Franks-Stollen
und
UVEX